Georgia's national cuisine is one of the reasons why everyone should visit the country. Georgians are just as proud of their cuisine as they are of their rich history and traditions. Supra, a traditional Georgian feast featuring a variety of local dishes and homemade wine, demonstrates the importance of food in Georgian culture. A Georgian family does not require a festive reason for supra and even one guest is more than enough to organize a multi-hour feast with plenty of wine and food.
Georgian cuisine has absorbed many traditions from neighboring countries over the centuries. It now displays the country's rich history. Georgian cuisine is diverse and flavorful due to the influence of the Mediterranean, Arab, Mongol, Persian, and even Indian cuisine.
Each historical province of Georgia has its own dishes and culinary traditions, but they all have something in common.
Khinkali
Khinkali is one of Georgian cuisine's most popular meat dishes. It is a tasty Georgian dumpling filled with minced meat and spices and traditionally eaten with your hands. Those who prefer a different filling can have Khinkali stuffed with cheese, mushrooms, potatoes, and other ingredients.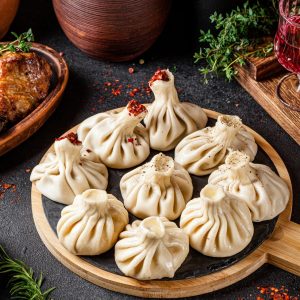 Khachapuri
It is the iconic dish of Georgian cuisine that has recently gained global recognition. This delectable flatbread filled with cheese can be found all across Georgia. Each region has its version of cheese bread, which comes in different shapes and sizes. The Adjara region's version of Khachapuri (Adjarian Khachapuri) is the most popular – a boat-shaped dough with cheese filling and butter and raw egg yolk topping.
Similar to Khachapuri, there are several other stuffed bread variations in different regions of Georgia. Kubdari is a bread stuffed with meat filling flavored with onions, garlic, and various spices from the Svaneti region. Lobiani is a flatbread from the Racha region with a bean and ham filling. Mkhlovani is another flatbread from the eastern mountainous region that is filled with spinach or beet leaves mixed with cheese and spices.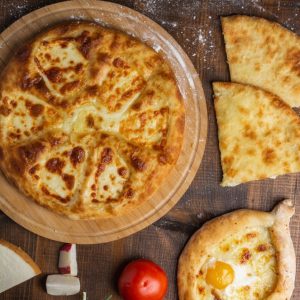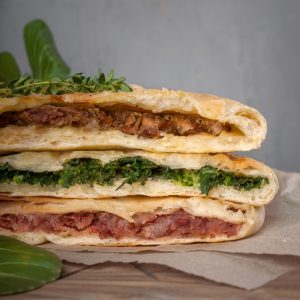 Pkhali
A popular Georgian vegetarian appetizer made with various vegetables, walnut paste, garlic, vinegar, and fresh herbs, and usually garnished with pomegranate seeds. Pkhali plate with assorted vegetables includes eggplant, cabbage, red bell pepper, spinach, and beets.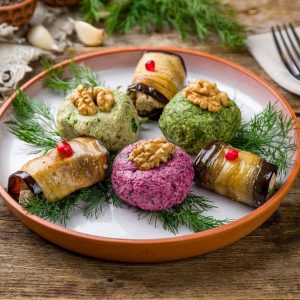 Mtsvadi
Meat barbeque is nothing new, but skewered lamb, pork, or veal meat is an essential part of Georgian cuisine. The main Georgian twist on the standard barbeque is that Georgians use grapevine branches as skewers. The smoky and juicy Mtsvadi is served with sliced onions and Georgian Shoti bread.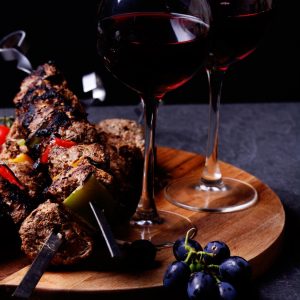 Georgian Bread
Georgian Shoti is a traditional canoe-shaped bread baked in a clay oven known as tone. It is always entertaining to watch the baker slap raw dough against the tone wall to bake it. The flavor is best when it is fresh from the oven.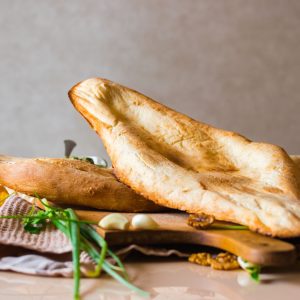 Another type of bread that Georgians make at home is Mchadi, which is made with cornflour. It comes in different sizes and shapes, but the most common is a small round-shaped Mchadi. It is served usually with local salty cheese. People in some regions put cheese inside the dough before frying it, known as Chvishtari.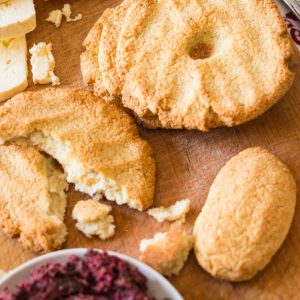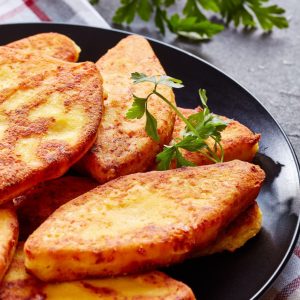 Another vegetarian dish from Georgian cuisine is mushroom in a clay pan. This simple yet flavorful dish is prepared in traditional clay pans by placing mushroom heads upside down, covering them with cheese, and baking on high heat. Delicious flavors are created by combining mushroom juice and melted cheese.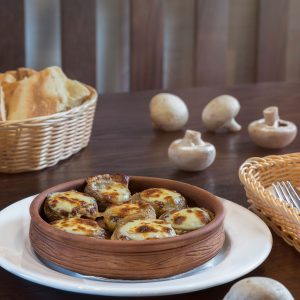 Meat dishes
Georgian cuisine features various slow-cooked meat stews like Ostri, Kharcho, and Chakapuli. Ostri and Kharcho are beef stews made with garlic, Georgian spices, and herbs, but Ostri has a tomato-based sauce while Kharcho is made with walnut paste. Beef can be substituted with a variety of other meats. Chakapuli is a spring dish that combines lamb or veal with tons of fresh herbs (particularly tarragon) and white wine.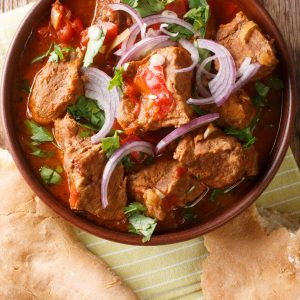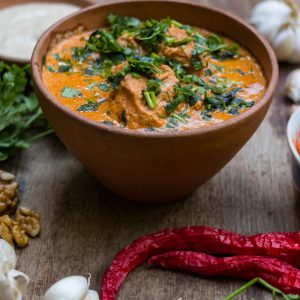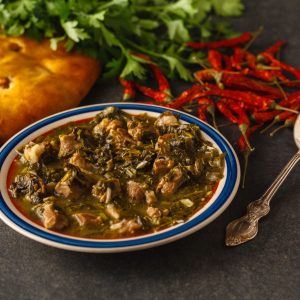 Shkmeruli is a popular chicken dish in the Racha region. It is a clay pan-roasted chicken with garlic sauce. Baked beans in a clay pot are another traditional dish from this region, served with Mchadi and assorted Georgian pickles.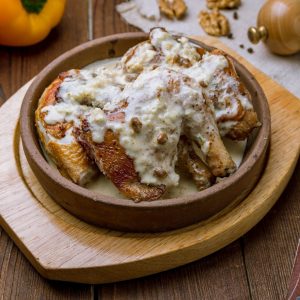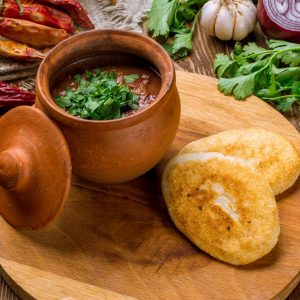 Aside from Khachapuri, people in the Samegrelo region enjoy using cheese in a variety of other traditional dishes. Elarji, made with coarsely milled cornmeal, corn flour, and local Sulguni cheese, is one of the most popular dishes. It is served hot, with a very elastic and cheesy texture.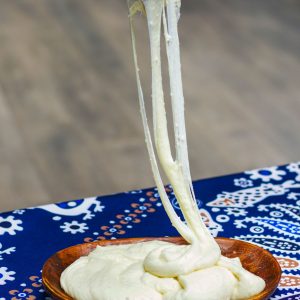 Gebzhalia is another cheesy dish from the Samegrelo region. A cheese roll stuffed with mint and Nadughi (similar to cottage cheese) sauce. It is served with Ghomi, a cornmeal porridge used instead of bread by Megrelians.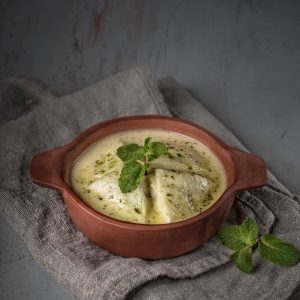 Georgian sauces with distinct flavors are also popular among foreign visitors. The Bazhe sauce contains walnuts, garlic, Georgian spices, and vinegar. Tkemali is a sour plum sauce that can be red, green, or yellow (plums themselves are called Tkemali). Tkemali is cooked and combined with garlic, dill, coriander, and red pepper.
Pelamushi is a Georgian custard dessert topped with raw walnuts. It is made with grape juice, thickened with corn or white flour.
Churchkhela is a traditional Georgian long-shaped candy made with strung walnuts or hazelnuts and soaked in thickened grape juice Tatara (similar to Pelamushi).
Gozinaki is a traditional New Year's dessert in Georgia. It's a crunchy rhombus-shaped bar made with chopped walnuts and honey.